The Grounds for Divorce in Louisiana
If your marriage has reached its end and you are considering a divorce, you may have questions about whether you can file for one yet. The underlying reasons for the divorce are called "grounds for divorce" in Louisiana.
As a fault and no-fault state, Louisiana has multiple grounds for divorce that may apply depending on your circumstances. When you're ready to file for a divorce, be sure to contact Dowden & Smith, LLC. We'll help you navigate all the necessary documentation needed for a smooth separation and a strong future for yourself and your family.
Fault Vs. No-Fault Grounds for Divorce in Louisiana
Fault-based and no-fault-based grounds for divorce are recognized in Louisiana. However, you must meet certain conditions no matter on which ground you choose to file for divorce.
Couples who want to divorce because they are no longer compatible or want to do so without making harmful allegations against the other can request a no-fault divorce. This type of divorce is based on the period of time the parties intend to live separately from one another or have already been living separately from one another.
Fault-based divorce occurs when misconduct in the marriage leads to the termination of the marriage. Fault-based grounds for divorce in Louisiana may require you to prove misconduct for a faster proceeding.
No-Fault Grounds for Divorce in Louisiana
A no-fault-based divorce simply means the marriage is broken and cannot be saved. No reason need be given for a no-fault ground for divorce in Louisiana other than that the parties have been living separately or intend to do so for the required time period. This is the most common type of divorce.
Couples who have children with one another must live apart longer than couples who do not have children. The time lengths for living separate and apart for a no-fault divorce ground in Louisiana include:
180 days without children under 18
365 days with children under 18
Fault Grounds for Divorce in Louisiana
A fault-based divorce is the quickest way to obtain a divorce if the parties have not already been living separately, as there is no mandatory waiting period. The grounds for fault-based divorces against the spouse who committed the misconduct include:
Adultery
Commission of a felony and sentenced to death or imprisonment at hard labor
Physical or sexual abuse of spouse or children
A protective order was issued during the marriage
If you need to pursue fault-based grounds for divorce in Louisiana, seek legal help immediately. Contact Dowden & Smith, LLC, for assistance in your divorce and proving the grounds for divorce in Louisiana
Uncontested Divorce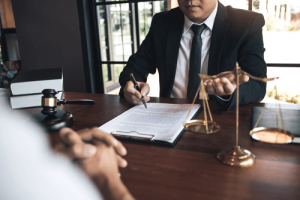 An uncontested divorce is a no-fault divorce in which the other spouse does not oppose the divorce at any stage of the proceedings. An uncontested divorce may include certain settlement agreements that the parties have agreed to reduce to a judgment. In many uncontested divorces, the other spouse simply does not respond to the divorce proceeding, and a judgment of divorce is simply granted without their participation.
Questions About the Grounds for Divorce in Louisiana?
There are many options for people seeking grounds for divorce in Louisiana. If you have questions about grounds for divorce in Louisiana or you would like to proceed with a divorce and don't know where to start, then contact Dowden & Smith, LLC, today at 337-238-2800. Our experienced divorce attorneys are ready to help you move forward with your divorce and plan for a brighter future.